EspañolOn Thursday, March 5, Brazil's Attorney General Rodrigo Janot delivered to the Supreme Court a list of names of those politicians allegedly implicated in the corruption scandal involving state oil firm Petrobra. The news comes as President Dilma Rousseff's administration continues to battle a complicated economic situation in the country.
The list is principally based on evidence given by Paulo Roberto Costa, former director of the company's refineries, and Alberto Yousseff, a specialist in money laundering. Both confessed their involvement in a kickback scheme in return for reduced sentences.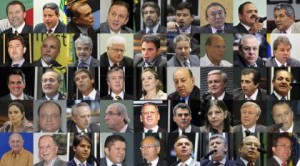 The list of 54 names includes 49 senior political figures, the majority of them belonging to the governing coalition.
Among them are Senate President Renan Calheiros; Eduardo Cunha, president of Congress; Mário Negromonte, former Cities Minister; and former president and current senator, Fernando Collor de Melo.
They're joined by Gleisi Hoffmann, former Cabinet chief and current senator; former Energy Minister Edison Lobão; and former Minas Gerais State Governor António Anastasia, the only individual on the list who belongs to the opposition coalition.
Despite accusations that President Rousseff knew about the scheme, the prosecutor decided not to investigate them as he lacked the legal competency to do so, Janot explained in documents submitted to the Supreme Court.
During a speech on March 8 to mark International Women's Day, Rousseff alluded briefly to the corruption scandal. "Brazil has already learned to apply justice to the corrupt. That's what's happening in the free and rigorous investigation in the Petrobras case," she stated.
Now, the tribunal must work together with prosecutors to determine whether it has enough evidence to bring the suspects to trial for having benefited from funds siphoned off from the petrol firm.
Sources: El País, La República, Analítica, Euronews, Diario Público, Folha de S.Paulo.