EspañolFollowing news that the US Department of Justice is to file corruption charges against Robert Menendez (D-NJ), the senator has denied allegations of using his position to promote the business interests of a party donor and personal friend in exchange for gifts.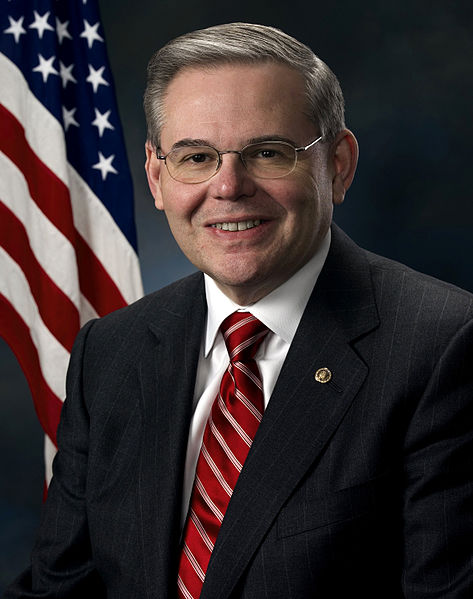 "Let me be very clear, I have always conducted myself appropriately and in accordance with the law," Menendez told press on Friday, February 6. "Every action that I and my office have taken for the last 23 years that I have been privileged to be in the United States Congress has been based on pursuing the best policies for the people of New Jersey and this entire country."
Charges against Menendez are expected to be filed in the coming weeks, a DOJ official told the Associated Press.
Investigators have focused on the New Jersey official's relationship with a Florida ophthalmologist, Salomon Melgen, whom the senator has called a friend and a political supporter.
The investigation centers on plane trips Menendez took in 2010 to the Dominican Republic aboard Melgen's private jet. After a review by the Senate Ethics Committee, Menendez agreed to reimburse Melgen over US$58,000 in 2013.
Menendez, who is one of the most senior Hispanic figures in Congress, also contacted a Medicare agency to urge them to change one of Melgen's payment plans, according to court documents. In 2013, Medicare administrators accused Melgen of overcharging the federal government by US$8.9 million in payments when treating patients.
Prosecutors are also investigating into allegation that Menendez advanced Melgen's business interests in a Dominican Republic government contract for port screening equipment.
On Saturday, Senator Ted Cruz (R-TX) suggested that there are political motivations behind the criminal corruption charges against Menendez.
"The timing seems awfully coincidental that … in the very week that Bob Menendez showed incredible courage to speak out and call out President [Barack] Obama for the damage that his policy is doing to our national security … the Justice Department announces they're moving forward with the criminal prosecution," he said.
Menendez has been among the most vocal opponents of Obama's foreign policy. He has criticized the president's policy on closer ties with Cuba and rejects ongoing negotiations with the Iranian government on its uranium enrichment program.
Sources: CNN, Las Vegas Sun.