EspañolOn Wednesday, March 4, Venezuelan judge Iris Araujo sentenced student activists Raúl Emilio Baduel and Alexander Tirado to eight years in prison for conspiracy and instigation to commit a crime and public intimidation. The two students had already spent over a year in custody over their involvement in anti-government protests.
Baduel's brother, Adolfo, confirmed the judge's ruling via Twitter, and expressed his disappointment.
Jueza Chavista-Madurista sin dignidad y honor, condena injutamente a mi amado Hermano Raul Emilio Baduel a 8años de injusta prision.

— ADOLFO BADUEL (@jbaduel) March 4, 2015

"The Chavista-Madurista judge, with no dignity or honor, unjustly condemned my beloved brother Raúl Emilio Baduel to eight years of unjust prison."
In a press release, the Venezuelan Attorney General's Office said those "convicted led a protest that turned violent." According to the release, "after the arrest of Baduel and Tirado, [the police] seized several Molotov cocktails and blunt objects."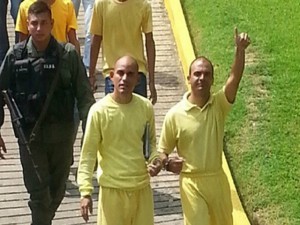 Defense attorney Omar Mora Tosta said he plans to appeal the judge's decision. "They are jailing innocent people for thinking differently," he said.
Mora Tosta said on Thrusday, March 5, in a press conference, that the students were taking part in a peaceful demonstration when Aragua state police officers arrested them without cause.
Freddy Guevara, a leader of the Venezuelan opposition party Popular Will, has requested that government officials explain "why it is a crime to stand on the side walk holding a flag," referring to what Baduel and Tirado were doing at the time of their arrest. "The only reason why [these students] were arrested is because [the Maduro administration] are criminals that resort to the judiciary to repress," said Guevara.
"Judge Iris Araujo, you will pay before the judiciary for what you have done, and this message goes to all the judges and prosecutors. You won't be able to excuse yourselves by saying that you were just following orders," he added.
Mora Tosta says Baduel and Tirado have been subjected to torture and other cruel treatment during their time in custody. "These facts have been deliberately ignored by the judge in a deplorable, unethical attitude, advancing a judicial process that began with an arbitrary arrest," said the attorney in a press release.
Baduel's father, General Raúl Baduel, led the military operation that rescued the late President Hugo Chávez, after he was overthrown on April, 11, 2002. In 2007, Baduel protested against the proposal to reform the Constitution that was later rejected in a referendum.
In 2009, Baduel's father was jailed for corruption and sentenced the following year to nearly eight years in prison for embezzlement of public funds, abuse of authority, and crimes against the military order.
Fueron a Ramo Verde y nos amenazaron, hoy en el Palacio de "Justicia" de Aragua otra vez NOS CONDENARON. NICOLÁS, SER BADUEL NO ES UN DELITO

— ADOLFO BADUEL (@jbaduel) March 5, 2015

"They went to Ramo Verde [prison] and threatened us. Today, in the "Justice" Palace in Aragua, they condemned us again. Nicolás [Maduro], being a Baduel is not a crime."
Sources: El Universal, La Patilla.