EspañolWith the Venezuelan bolívar exchange rate weakening rapidly towards 300 Bs. per US dollar, the nation is on a trajectory towards hyperinflation. As of Thursday, March 5, the bolívar is being traded at 281 Bs., according to widely referenced DolarToday.com — a 29 percent loss of value from 200 Bs. just nine days ago.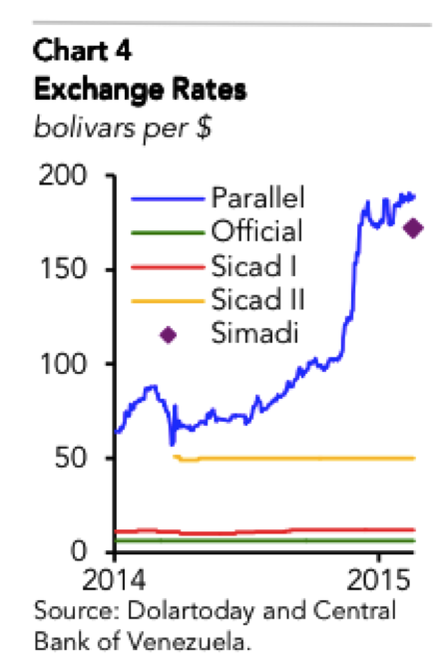 "Pressure on the bolívar has mounted on the back of lower oil prices, increasing policy uncertainty and default fears," writes economist Steve Hanke, head of the Cato Institute's Troubled Currencies Project.
On Tuesday, March 3, head of the Center for International Development at Harvard University Ricardo Hasumann declared that "hyperinflation [had] arrived" in Venezuela, after the local currency lost half its value in only 100 days.
This latest devaluation comes one month after Venezuelan President Nicolás Maduro announced a new currency exchange system, which so far has failed to achieve its stated objective of bringing stability to the value of the bolívar. The Marginal System of Foreign Currency (Simadi), which would supposedly allow a "free-floating" regime, has not been able to satisfy demand, and currency-exchange officials claim they can't provide enough dollars under prevailing conditions.
"On Monday we were able to sell. Today we have ran out [of dollars]," said the manager of a Venezuelan exchange to local daily El Nacional.
The Simadi rate, most recently traded between 170 and 177 Bs. per US dollar, has not been able to contain demand for the dollar, pressuring people to shift back to the black market.
The Troubled Currencies Project suggests hyperinflation — generally accepted as beyond 50 percent inflation per month — is the likely outcome. As of March 3, the center reports an implied annual inflation rate of 157 percent, double the official rate of 68.5 percent.
Update: Thursday, March 6, 8:00 a.m. EST.