EspañolA Bolivian judge ordered a preventative jail term for former anti-drug police chief Óscar Nina, along with his son Hugo and another top police official, on Wednesday, March 4, after Nina testified in court for 11 hours, reported anti-corruption prosecutor Ana Luisa Heredia.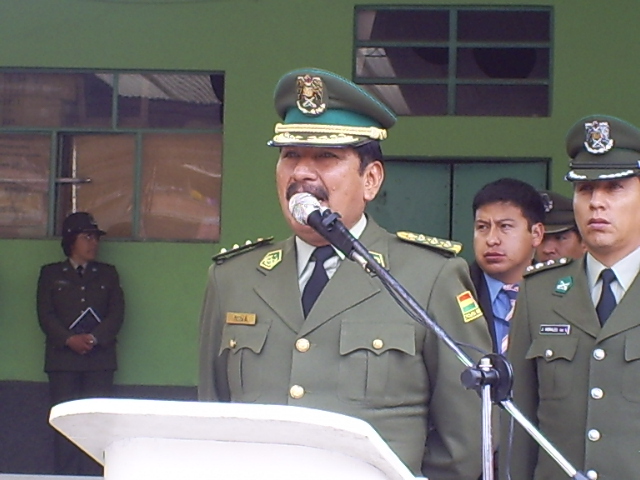 Authorities are investigating Nina, along with six other people, for illicit profiteering, money laundering, and ties with narco-trafficking rings.
The judge also ordered the arrest of Nina's wife and daughter, but both were released on 20,000 Bol. (US$2,900) bail and sentenced to preventative house arrest.
Interior Minister Hugo Moldiz said there were "serious suspicions" of Nina's links with drug traffickers. "We believe that this has been a good first step and now the task of the judiciary is to accelerate the resolution of this case to set a precedent," Moldiz said on Wednesday after a cabinet meeting.
The indicted former police chief and the other defendants testified at least for 11 hours to justify the source of their unusual income. "They can't explain their wealth with the salaries they obtained… this is why we have requested preventative detention," said Heredia.
Bolivian President Evo Morales appointed Nina as the top counter-narcotics officer in 2008, after Morales expelled the US Drug Enforcement Agency in 2008.
In 2010, he was appointed as the national police commander, but retired in 2011 after a drug-trafficking scandal emerged involving top anti-drug official General René Sanabria.
Nina is the second Bolivian anti-drug chief tried for being involved with drug traffickers. In February, 2011, US drug agents detained Sanabria, who was convicted one year later for sending a 144-kilogram package of cocaine from Bolivia to Miami. Sanabria is serving a 14-year sentence in a US prison.
Bolivia is the world's biggest producer of cocaine after Peru and Colombia, and the main cocaine provider for South American countries, according to the United Nations Office on Drugs and Crime.