Three days after legislative and municipal elections in El Salvador, official results are yet to be made public. On Tuesday, March 3, the Central American country's Supreme Electoral Court (TSE) refused to release the preliminary vote count, instead proceeding straight to calculating the final tally.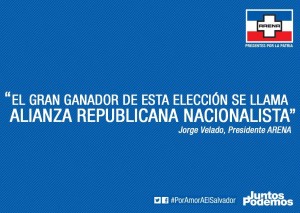 Julio Olivo, head of the TSE, said on Monday that software company Soluciones Aplicativas had experienced "technical problems" in processing the results. Election authorities decided to revoke the company's contract and hire a new data firm, but as of Wednesday issues still remained.
"This obviously is a serious and lamentable situation," said human-rights prosecutor David Morales. "Beyond the responsibilities of the company that have failed, the TSE is responsible for the follow-up, set-up, and the decisions that led to the failure of the company."
Officials from both the ruling Farabundo Martí National Liberation Front (FMLN) and main opposition party the Nationalist Republican Alliance (ARENA) have proclaimed themselves victorious in the mayoral and legislative races.
"The FLMN has consolidated its position as the main political force at the municipal, legislative, and executive level," said FMLN General Secretary Medardo González. Jorge Velado, head of ARENA's Executive Committee, made a similar claim: "I say with complete certainty that ARENA is now the leading political group in El Salvador."
Wilfredo Salgado, incumbent mayor of the town of San Miguel for the conservative Grand Alliance for National Unity (GANA), meanwhile alleged that the local elections had been fraudulent — despite having rushed on Monday to admit defeat.
"There were several people [voting] who are not from San Miguel," he said. "We're asking [the authorities] to annul the fraudulent ballots, because we have evidence." However, GANA official Guillermo Gallegos claimed that the party was not backing Salgado's allegations.
Morales and international observers have discounted the possibility of fraud.
Sources: Contrapunto, La Prensa Gráfica.