EspañolDefense Distributed, 3D-printed firearms supplier, had to inform its customers on Tuesday, February 24, that FedEx has refused to ship their latest release: a computer-controlled mill named Ghost Gunner that would allow customers to make a wide-range of goods — from prosthetic limbs to unregistered assault rifles.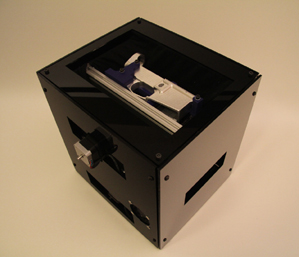 "I've got an account with another courier, but FedEx is bewildering because the reason I started with them in the first place was their [National Rifle Association] advantage program," the company's founder, Cody Wilson, told Ars Technica.
UCLA Law Professor Adam Winkler commented that "federal law does not prohibit individuals from making their own firearms at home," although FedEx has invoked uncertainty over regulations as the reason behind its refusal.
"This device is capable of manufacturing firearms, and potentially by private individuals. We are uncertain at this time whether this device is a regulated commodity by local, state, or federal governments," spokesman Scott Fiedler told Wired. "As such, to ensure we comply with the applicable law and regulations, FedEx declined to ship this device until we know more about how it will be regulated."
The device is a multipurpose milling machine that is capable of printing a wide range of metal objects. While not limited to the manufacture of firearms, its marketing campaign focuses on its capability to print the AR-15 assault rifle, the civilian version of the M-16 military firearm, without a serial number.
In an e-mail sent to his company's followers, Wilson said that Defense Distributed would find a way to satisfy his customers: "I will find another way to ship the machine. I emailed today because I feel you should know that FedEx is uncomfortable with the constitutionally protected right to make a rifle free from government surveillance."
According to Winkler, courier companies will have to face reality and adapt to the new technology. "It's going to be very hard to get people to stop using these same devices to make firearms," he says. "To a certain extent, FedEx will have to get used to shipping gun-making machines."
Sources: Wired, Ars Technica.