EspañolPablo Iglesias, leader of Spanish political party Podemos, publicly rejected the arrest of Caracas Metropolitan Mayor Antonio Ledezma in an interview with Spain's Tele5 channel on Monday.
The head of the "main opposition party in Spain," as he described the movement in the interview, stated that he didn't agree with the seizure of the official. "It would be another thing if they afterwards proved that this man had committed a crime, but neither preventative prison nor the arrest of public officials is something that I like a priori," Iglesias said.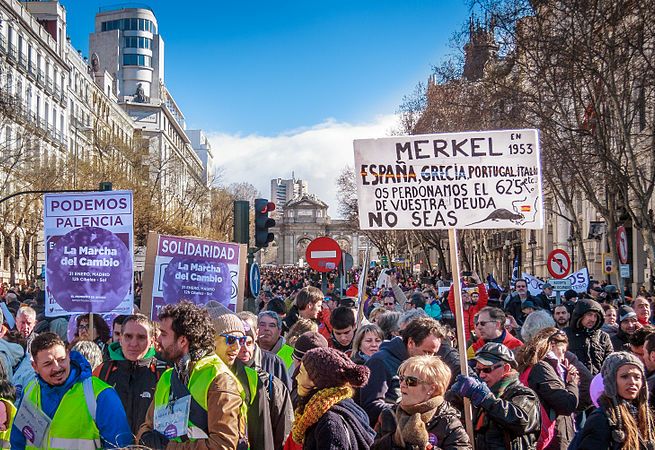 The political figurehead of Podemos has previously avoided making a statement on Venezuela's deepening political and economic crisis, but claimed that there was "no ambiguity" in his words.
Tania González, a European member of parliament with the party, meanwhile argued with regard to Ledezma's arrest that she didn't agree with the detainment of political officials anywhere in the world, and that the judicial process should involve "maximum transparency, maximum speed, and maximum procedural guarantees."
Their comments come after revelations of the extensive ideological and financial links between the Spanish political party and the administrations of former Venezuelan President Hugo Chávez, and current premier Nicolás Maduro.
The relationship was managed through the Center for Political and Social Studies (CEPS), a Spanish NGO owned by Iglesias, Juan Carlos Monedero, and other leaders of the party. According to information revealed by ABC on February 17, the CEPS sent permanent advisors to Caracas, for each of which the Venezuelan government paid the organization between €7,000-7,500 per month.
In January, ABC reported that party founder Monedero received €425,150 to offer consulting services on the creation of a single "Bolivarian" currency for Bolivia, Ecuador, Venezuela, and Nicaragua. Also in January, Spanish intelligence services confirmed to Madrid-based El Mundo that Monedero had received two transfers worth over a million euros in total via the CEPS.
The current Spanish government has criticized ongoing human-rights abuses in its petroleum-producing former colony. In Iglesias's comments on Monday, he invited the Spanish government and that of Venezuela to "lower the tension between two historic partners." This follows threats made by Venezuela to expropriate Spanish companies operating in the country if they didn't put pressure on European papers to give Venezuela more favorable press coverage. "It's time for both the Venezuelan government and the Spanish government to moderate the tone," Iglesias argued.
The interview, anchored by presenter Pedro Piqueras, was viewed by over 4 million spectators, 22.2 percent of total viewers, making it the most-watched interview of a political figure in Spain since 2004.
Sources: El Universal, El País, ABC, El Mundo.