EspañolAccording to news published by Argentinean daily Clarín on February 17, a key witness called to verify the scene of Alberto Nisman's death on January 18 noticed several irregularities upon arriving at the prosecutor's apartment.
Natalia Fernández, 26, was at work at a restaurant nearby to Le Parc towers when officers called her to the scene after discovering Nisman's body in his bathroom with a gunshot wound to the head. "I'm scared to say it, but there are lots of things that didn't seem right to me," she told Clarín.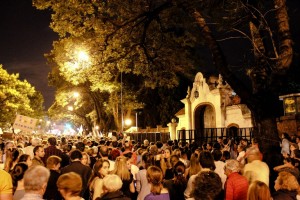 "When we passed through the living room, I saw a mountain of papers and folders on the table that said 'case' and 'secret.' I saw how they were writing on top of the papers, marking AMIA items with permanent ink," Fernández said.
"There were around 25 files. They were reading every page, making a summary. They wrote it and made me sign it," she added.
"Natalia, I want you to know that this is exactly as we found it," the officers told her to try and calm her down.
According to the witness, officers in the apartment were "drinking mate and asking for croissants. They were touching everything. There were around 50 people. The prosecutor asked, 'shall we leave it there and continue tomorrow?'"
"I began to cry. The doorman sat down by my side. I was dying from lack of sleep, and they offered me a coffee. It was from the coffeemaker that was on the table next to the papers; it was Nisman's coffeemaker," she said.
The prosecutor in charge of the Nisman case, Vivian Fein, strongly denied Fernández's claims and accused her of lying. "What this girl's saying isn't true; it's crazy," she said.
The prosecutor added that the witness "will have to be responsible for the truthfulness or dishonesty of her words."
Fein further asked for respect for the judicial process, dismissing the claims of disregard for evidence as "fantasy."
"It doesn't seem right to be saying 'they don't know who killed [Nisman]'; I'd say we don't know what exactly happened yet," she told Radio 10.
She added that several witnesses took part during the investigation, but the relevant information had been held back. Fein suggested that the witness could have been "planted" to appear at the scene.
Security Secretary Sergio Berni meanwhile claimed to not know of Fernández, nor to have seen her on the night of the investigation. "The prosecutor will have to determine the truth of her declarations," he said.
Kirchner Back in Buenos Aires
President Cristina Kirchner left the capital last week for the Patagonian town of El Calafate, despite formal suspicions about her role in an alleged cover-up of the AMIA bombing once again being issued on Friday by Nisman's replacement, Gerardo Pollicita.
The president was anticipated to remain in the south until at least February 19, the day of her 62nd birthday, thus avoiding being present in Buenos Aires during demonstrations convened for Wednesday in memory of Nisman.
However, Kirchner left El Calafate late on Monday for the presidential summer residence at Olivos, northern Buenos Aires, according to La Nación.