EspañolSpanish Justice Minister Rafael Catalá told press on Monday, February 16, that the Spanish National Court may request that the Venezuelan government extradite a suspected terrorist back to Spain. Iñaki De Juana Chaos, formerly a member of the militant separatist group Basque Homeland and Freedom (ETA), is reported to be living in the coastal town of Chichiriviche, some 300 kilometers from Caracas, where he owns a liquor store.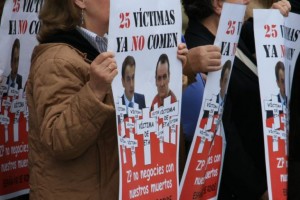 De Juana Chaos was condemned to 3,000 years in jail in 1987 for his role in the killing of at least 25 people. However, he only served 18 years in jail, benefiting from a reduction in his sentence in line with the Spanish Penal Code.
In 2006, he was again placed in preventative prison for writing two articles in independent Basque media outlets which judges claimed advocated terrorism, and later sentenced to another 12 years in jail.
After various hunger strikes, his sentence was reduced to three years, and he was freed in 2008. However, a fresh judicial case was subsequently opened after he read a letter at a public event which was again accused of inciting terrorist activity. Nevertheless, on this occasion he fled to Ireland, disappearing in 2010 when Interpol issued an alert for his arrest.
In 2014, Spanish media outlets published photos of De Juana Chaos, his wife Irati Aranzábal, and their two-year-old son in a shopping mall in the South American country. Although Venezuela and Spain have an extradition treaty in force since 1990, Venezuela has sheltered known criminals since at least the 1970s, often with the collusion of the Spanish government.
In 2011, it emerged that Arturo Cubillas, one of the most prominent figures in the militant Basque organization, was working as an advisor to the Venezuelan Ministry of Agriculture. The Spanish government requested his extradition in the same year without success; Cubillas has since been closely linked to Foreign Minister Elías Jaua, one of the most influential figures within the government.
In a 2007 protest in Madrid, several thousand people demonstrated against the reduction in De Juana Chaos's sentence, according to local media.
The Venezuelan government has previously denied De Juana Chaos's position in the country, after being spotted last year by Spanish press in Puerto La Cruz, at the opposite end of the country to his home in Falcón State. Jaua at the time signaled that there had been no official request from Spain to investigate the issue.
Venezuelan President Nicolás Maduro also claimed in a televised address that De Juana Chaos "isn't in Venezuela," and criticized political "speculation" by the Spanish government.
Spanish Interior Minister Jorge Fernández has confirmed that the government "will study" the case for extradition and "will issue it if it proceeds, and the judicial authority considers it opportune."
Sources: El Mundo, El Nuevo Herald.