EspañolAuthorities in Argentina discovered a burned body early on Monday morning a few meters from the Le Parc apartment building where the late prosecutor Alberto Nisman lived.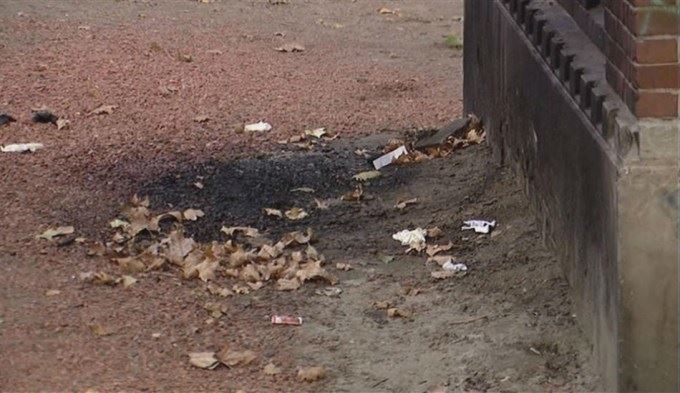 According to local daily Crónica, the woman's body was found close to an oil container and a bottle of ethanol, although paramedics reported that she died as a result of electrocution.
The scorch marks from the fire remained visible on the pavement of the forested area in Puerto Madero, central Buenos Aires, early on Monday morning. Due to vacations for Carnival, the autopsy won't take place until Wednesday.
The discovery of the body went viral on social media, with both "Le Parc" and "Puerto Madero" among the trending topics on Twitter in Argentina. Many commentators, among them Argentinean journalist Gaby Levinas, were skeptical of claims that the woman's death, currently classified as "suspicious death" by prosecutor Graciela Bugeiro, had nothing to do with the Nisman case.
La ciudad tiene 20.000 manzanas ,la posibilidad q el cadáver incinerado afuera de Le Parc haya sido puesto allí de casualidad es 1/en 20000

— Gaby Levinas (@GabyLevinas) February 16, 2015

"The city has 20,000 hectares; the possibility of a burned body being put in La Parc by coincidence is 1 out of 20,000."
Other citizens shared similar opinions:
¿La zona de Le Parc es un "punto cósmico suicida"?

— Flavio Buccino (@FlavioBuccino) February 16, 2015

"The Le Parc areas is a 'cosmic suicide point?'"
This week is set to be key in the Nisman case, with a massive demonstration planned for Wednesday in Buenos Aires to mark one month since the discovery of Nisman's lifeless body with a gunshot wound to the head. Also on Wednesday, investigating prosecutor Viviana Fein will receive the results of the toxicology study on Nisman's body.
Senior criminal prosecutions judge Daniel Rafecas is also to return to work, having suspended his vacations after prosecutor Gerardo Pollicita renewed accusations on Friday that President Cristina Kirchner conspired to cover up Iran's role in the 1994 AMIA bombing.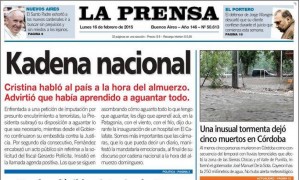 The president, in a speech transmitted on national radio and television on Sunday, said that her years leading Argentina have taught her to "put up with what you have to endure," and said that "we're more important than the media, than the cameras, than what a newspaper has to say."
Although Kirchner made no direct reference to the charges, her position remained the same, criticizing "clearly anti-democratic movements, corporate sectors within the judiciary, media monopolized by the opposition, and individuals linked to the intelligence services."
Ricardo Sáenz, attorney general for the national criminal appeals court, suggested that Rafecas wouldn't be able to reject the charges brought by Pollicita, as they had "substance." However, he raised fears that the allegations initially made by Nisman against Kirchner and senior officials would be "attacked politically."