EspañolPresident Michelle Bachelet's son Sebastián Davalos stepped down from his government post as sociocultural director on Saturday amid allegations of selling influence over government policy, which he continued to deny on February 14.
Davalos is accused of promising Bank of Chile executives the government's ear in return for a CHL$6.5 billion (US$10 million) loan for Caval Ltd., a company half-owned by his wife, which previously held assets of under $8,000. The loan was used to purchase land for a housing development that was later sold at a $4 million profit.
"I categorically reject the publication of false information about supposed comments made by me and members of my family," Davalos told press at the Moneda Palace. "I wish to emphasize that I have committed no illicit activity or crime, as some of the media have suggested," he added.
However, Davalos announced that he would step down from his role in directing foundations and museums to help repair the "damage to the president of the republic and government, who have my total and absolute loyalty."
Chilean Interior Minister Rodrigo Peñailillo said on Thursday, February 12, that the government will apply "complete transparency" in allegations of the peddling of political influence by the son of President Michelle Bachelet.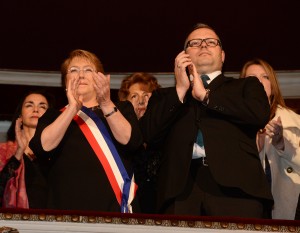 "The country expects that in this case, as in any other, the government will act with complete transparency to citizens. It is what we have said and what we will do," Peñailillo told press.
He said that everyone working in government "is clear" they have an obligation as public officials and employees to "act with the greatest transparency" to the country.
"This is what will be done in this case, in other cases, or in those that will come. That is the principle of government. Even if it's a transaction between private actors — these companies — the government obviously expects maximum transparency and, of course, that all the information is made available across the country," he said.
Peñailillo also referred to alleged errors in Dávalos's statement of assets and interests, saying that any gaps or misinformation "should obviously be corrected."
Sergio Bitar, Bachelet's former minister of public works, had previously urged Dávalos to "realize the damage" done by the allegations and renounce his public office.
Source: El Mercurio, La Nación.