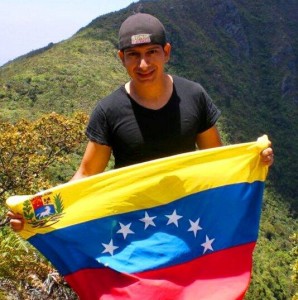 Robert Redman was killed the night of February 12, on Arturo Uslar Pietri Avenue in the Chacao municipality, Caracas.
Earlier that day, he had joined the march organized by the opposition towards the Public Ministry, and later helped to move Bassil Dacosta out of danger when the latter was fatally wounded by gunfire in the Candelaria district.
Redman returned home, told his father Dereck Redman what had happened, and went back to participate in the night demonstration in Chacao.
Through his Twitter account @EscualidoReload, he recounted the day's violent events, including the moments leading up to his death.
In his last tweet, Redman reported he had been wounded in the arm with a "lead pellet," but did not give any details of the extent of his injuries. Later that night, a gunman on a motorcycle shot him in the forehead, and the young man died on the street.
#ALmomento Herido en antebrazo de perdigon de plomo en Chacao.

— Escualidox Reload (@EscualidoReload) February 13, 2014

"#AtThisMoment wounded in forearm by lead pellet in Chacao."
His murderer has yet to be identified. The security camera of an adjacent building recorded that his helmeted killer rode a high-speed motorcycle similar to those used by police officers.