EspañolFarías was 19 years old and studying to be an accountant at the Rafael Belloso Chacín University (URBE) in Maracaibo.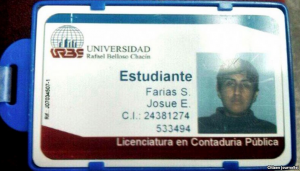 He was wounded on May 29, 2014, receiving a gunshot to the stomach while taking part in protests organized by his university.
Despite spending 23 days at the intensive care unit and undergoing several operations, Farías died on June, 21. No one has been arrested for his death.
In September 2014, lawyers Jesús Albornoz and Elenis Rodríguez of human-rights NGO Fundeci, backed by Farías's parents, cited contradictions in the medical reports, and requested the exhumation of his body for further investigations.
Rodríguez said that the report after Farías's first operation claimed he had a gunshot wound, while the second claimed he had been attacked with a marble-firing gun. Rodríguez also raised concerns about the preservation of evidence.
URBE students said during a protest on June 26, 2014, that Zulia State police officers were to be held accountable for killing Farías. The student leadership denied the official version that he had been killed with a marble gun.
Farías was the last victim of the violence following political protests that began in Venezuela on February 12, 2014.