EspañolGeraldine Moreno Orozco, 23 years old, was an athlete and cytotechnology student at the Arturo Michelena University of Carabob State. On the night of February 19, she was protesting in the streets outside her house in the Naguanagua municipality.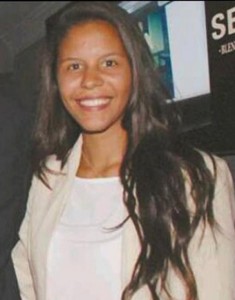 According to witnesses, six members of the National Guard arrived to disperse the demonstration, and the protesters soon ran. Geraldine, however, fell and hit the ground. When she turned, soldiers fired birdshot, hitting her in the face. As she tried to get up, the soldiers continued to fire, each time further mangling her face.
Geraldine's mother took her to a nearby health center, where she spent eight hours in surgery. Three days after being hospitalized, Geraldine died from her injuries.
Authorities arrested four soldiers involved in the shooting, and they continue to await their trial. On January 8, the initial hearing in the case was delayed for the sixth time.
On Monday, February 9, the television network funded by the Venezuelan government, Telesur, launched a campaign called #YoSoyVíctimadelaGuarimba (I am a victim of the guarimba or barricades), referring to those killed during protests in February and March 2014. Geraldine's mother, Rosa Orozco, responded to Telesur's mention of her daughter via Twitter:
@teleSURtv mi hija no es ninguna víctima de.nimguna guarimba es de este gobierno asesino NO LO VOY APERMITIR

— Rosa Orozco (@orozcorosam) February 8, 2015

"My daughter is not a victim of any guarimba, but of this murderous government. I will not allow this!"