EspañolGénesis Carmona was a 22-year-old Venezuelan model who studied marketing at the Center Technological University (UNITEC).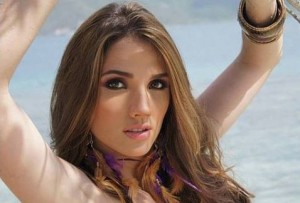 On February 18, 2014, she participated in anti-government protests in the city of Valencia, when a group of masked gunmen on motorcycles opened fire on the demonstrators. One of the shots struck Génesis in the head, and she died the following day from the wound.
Two days prior to the confrontation, Carabobo Governor Francisco Ameliach called on members of the Bolívar-Chavez Battle Unit (UBCH) to prepare for a "crushing counterattack" on the protests that filled the city. Génesis was the first victim of Ameliach's command.
Authorities have formally charged Juan José Masa Seijas, a student at the University of Carabobo, with complicity in her murder and conspiracy. However, the question of who fired the shot that killed Carmona remains unknown.
Así trasladaron a Génesis Carmona, Miss Turismo, herida de bala en la cabeza mientras manifestaba en #Valencia #Vzla pic.twitter.com/bQumEoB0Rv

— Juventud Activa Vzla (@JuventudActivaV) February 19, 2014

"This is how Génesis Carmona, Miss Tourism, was moved after being shot to the head while demonstrating in #Valencia #Vzla."
Maria Eugenia Tovar, the victim's mother, announced from Miami that she is petitioning for political asylum in the United States, but has not publicly disclosed her precise reasons. Tovar said she hops to "provide statements later" to explain her decision to leave Venezuela.
When asked if she had been threatened by the Venezuelan government, she preferred not to comment on the matter. Tovar has previously signaled Governor Francisco Ameliach as the man responsible for her daughter's death.