EspañolPeru will temporarily shut down its national intelligence agency for the next six months amid allegations of illegal spying, Prime Minister Ana Jara announced on Monday, February 9.
The move comes three weeks after a local television program claimed President Ollanta Humala used the National Intelligence Office (DINI) to spy on his vice president, Marisol Espinoza, and political opponents.
While the agency is closed, it will undergo changes to its organizational structure. The intelligence activities of the Armed Forces and the Foreign and Interior Ministries will remain operational, according to the prime minister.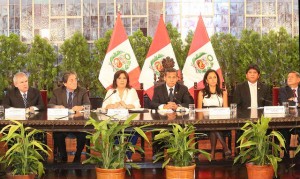 As a result of the illegal surveillance allegations, the head of the DINI, Víctor Gómez Rodríguez, was removed from his position and replaced by Javier Briceño.
Jara said she will send a bill to the Congress in the coming days to formalize the agency shut down for the next 180 days. Authorities aim to modernize the operations of the agency and continue their work on "national security, drug-trafficking, and terrorism" issues.
The decision to shut down the agency followed a meeting at the Government Palace, which included 15 representatives of the opposition. The two largest opposition parties, however, Popular Force and the Peruvian Aprista Party, did not attend the meeting and demanded the resignation of the prime minister.
Prior to the announcement, President Humala also called on Congress to pass a bill that would regulate private intelligence companies.
Jorge del Castillo, an Aprista official, criticized Humala's decision, and said the president ignored proposals from the opposition because he "doesn't believe in a democratic dialogue."
Sources: Reuters, Diario Correo, La República.