Brazilian President Dilma Rousseff is to replace the CEO and senior management of state-run oil company Petrobras in an attempt to draw a line under a huge corruption scandal that has rocked the government.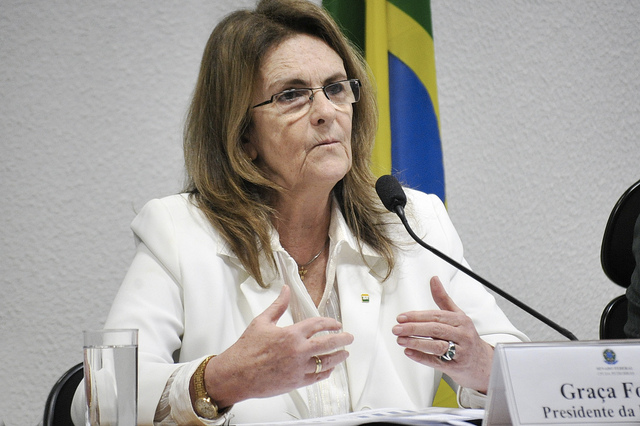 The firm's board of directors is due to meet on Friday, February 6, to elect a new management team to replace CEO Maria das Graças Foster and five other senior directors, Petrobras sources told press.
Foster's departure follows revelations of a corruption scheme including money-laundering, bribery, and political kickbacks that benefited Roussef's Workers' Party, as well as opposition parties and private companies.
Credit rating agencies Moody's and Fitch both downgraded the oil firm's rating in the past week, further compromising its ability to access international investment.
Authorities initially estimated the illegal activity diverted at least US$4 billion, while investigating officials have estimated that ongoing probes could put the number over the $28 billion mark.
Federal prosecutors revealed that they have already recovered roughly US$170 million involved in the scheme, and that over 230 small and big companies are being investigated. So far 86 people are facing charges, including several senior managers from Brazil's top construction firms, congressmen and other senior officials.
Fabio Fuzetti, a Sao Paulo-based oil analyst with Antares Capital Management, described Wednesday's decision as "inevitable" although "a little too late."
"Petrobras is in an unsustainable position," he told Associated Press. "They have to start to turn things around in a very significant way. It's performing in a very worrisome way. Petrobras is in dangerous levels of debt," he added.
On Tuesday, February 3, Petrobras shares jumped more than 15 percent after Brazilian daily Folha de S. Paulo reported Rousseff's intention to force a board reshuffle. Shares jumped another 5 percent on Wednesday after the news was confirmed.