The third summit of the of the Community of Latin American and Caribbean States (Celac) in San José, Costa Rica, came to an sudden end on Thursday, January 29, after verbal clashes between Nicaraguan President Daniel Ortega and his Costa Rican counterpart Luis Guillermo Solís.
The Nicaraguan's vocal support on Wednesday for Puerto Rican independence from the United States led to the cancellation of a final private meeting between the assembled heads of state scheduled for Thursday.
Tensions began when Ortega included Puerto Rican independence activist Ruben Berríos as part of his delegation, and broke with procedure to allow Berríos to address the floor.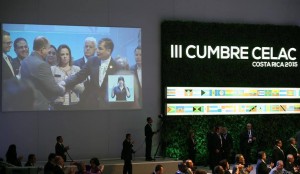 Berríos called for the organization to demand several measures be taken in support of Puerto Rican independence: a bid to acknowledge the issue in the UN General Assembly and a request for the United States to release a Puerto Rican independence agitator.
Berríos also urged that the multilateral organization, founded in 2011 with the purpose of deepening regional integration, be more conscious of covert methods of modern "colonialism."
Berríos's speech met with objections from Costa Rica's Solís, the host and chair of the forum, who argued that Celac has "specific procedures for enacting resolutions" through consensus agreement of foreign ministers.
Ortega in turn responded, interrupting Panamanian President Juan Carlos Varela, to demand respect for his decision to bring Berríos to the summit: "Nicaragua is speaking as a state, as a nation, and the voice of Puerto Rico is the voice of Nicaragua, so I ask for just a little bit of respect."
Later on, President Ortega insisted that Berríos attend a private meeting due to take place between the assembled presidents and foreign ministers. President Solís declined the request and suspended the meeting, citing the need to avoid further controversy.
"It was not possible to reach an agreement with Nicaragua, so I had to make a decision to terminate the meeting, to avoid an incident with potentially worse outcomes," Solís said.
Ecuadorian President Rafael Correa supported Solís's decision, claiming that the breach of procedure set a bad example: "This is a dangerous precedent. For instance, the United States can't bow down to England in an Organization of American States summit and let it speak about the Malvinas [The Falkland Islands]. The wrong procedures set a very negative example."
Neighboring Costa Rica and Nicaragua have suffered from poor relations since 2010, over several border disputes currently under review in the International Court of Justice.
Source: Noticias 24, El Nuevo Herald.