Español Peru's Acting Attorney-General Pablo Sánchez confirmed on Monday, February 2, that investigations are ongoing into money laundering charges against Nadine Heredia, the wife of President Ollanta Humala, and her brother Ilan. The judicial complaint was filed by a former supporter of Humala's Peruvian Nationalist Party (PNP).
"This is a complaint made by a person before the money laundering department of the attorney-general's office," Sánchez told local broadcaster San Borja radio. "The prosecutor has opened a preliminary investigation to see whether what it states is true or not", he added.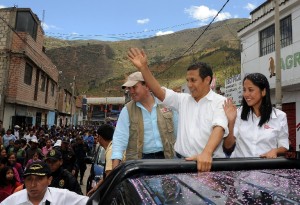 The attorney-general said that he wasn't directing the case personally, instead having delegated to a "competent prosecutor" whom, he emphasized, would be entirely free from political pressure or interference.
Investigations first aim to ascertain the source of the funds in question.A preliminary probe will last 180 days, focusing on deposits placed in a bank account between 2006 and 2009 allegedly entrusted by Heredia to a third party.
Heredia, chairperson of the PNP, defended herself from the accusations and explained that her income comes from her salary as adviser of businessman Martín Belaunde Lossio — currently jailed in Bolivia over corruption allegations— and as a foreign correspondent for a pro-government Venezuelan newspaper.
Despite the relevant account showing a balance of US$215,000, the Financial Intelligence Unit of Peru revealed Heredia received only $51,000 from the cited employers, with the remainder of the sum transferred by friends and family, including her younger brother Ilan, 27, who is unemployed.
During the 2012 presidential campaign, President Humala's rival candidate Victor Islas alleged that Heredia was on the payroll of the Venezuelan government.
Source: Infolatam, El Carabobeño