Español Representatives from the Colombian government and the Revolutionary Armed Forces of Colombia (FARC) resumed peace talks in Havana on Monday, February 2, this time tackling the difficult issue of reparations for the victims of the 50-year conflict.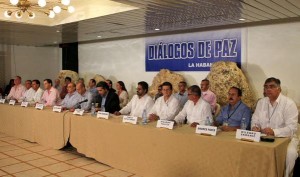 Since talks began in November 2012, both sides have reached agreements in land distribution, ending drug trafficking, and transforming the guerrilla, whose current strength is estimated to be around 8,000 fighters, into a formal political party.
The 32nd round of talks will continue until February 12, with both sides returning to the Cuban capital for the first time in 2015 since FARC announced an indefinite, unilateral ceasefire in December. Leaders of the Marxist rebel group stated their aim as fostering an environment conducive to agreement, and denounced any military activity that could threaten the truce.
Discussions on reparations will be guided by the work of a commission formed of FARC and government commanders. A joint report produced by the group covers the origin of the civil war and outlines a roadmap for the end of hostilities, including rebel disarmament, regularizing the status of prisoners, and guaranteeing the security of demobilized fighters.
"It is in our interest that we agree on the procedures and mechanisms for the reparation of victims by all actors involved in the conflict, armed and unarmed," FARC leaders stated in a press release on Monday.
The Colombian government's delegation, led by former Vice-President Humberto de La Calle, entered the convention center in Havana without comment.
Despite a volatile political backdrop, the contentious issues involved, and mutual threats to stop the talks, recent progress has outstripped that achieved by all previous peace efforts. The two parties reached partial agreements on rural reforms and political participation in 2013, and illegal crops and drug trafficking in May 2014.
Beyond compensation for victims, the process of ending the hostilities, verifying peace, and signing a final agreement will have to be managed. Notwithstanding progress so far, Rodrigo Londoño, FARC's highest commander, has said that a final peace agreement remains far off. President Juan Manuel Santos has also refused to change his policy on fighting rebel units while talks are ongoing, and has rejected the group's call for a bilateral ceasefire.
Sources: BBC, Prensa Latina, Reuters