EspañolThe son of former Venezuelan President Hugo Chávez used planes property of Venezuelan state-owned oil company PDVSA to transport illegal drugs for the Soles Cartel, according to allegations made by Leamsy Salazar, the senior Chavista security official turned DEA witness.
Salazar, the former bodyguard to both Chávez senior and National Assembly President and regime strongman Diosdado Cabello, told a New York court on Tuesday that Chávez's son operated a narco-trafficking scheme, moving contraband from Venezuela to the United States. He allegedly collaborated with the son of German Sánchez Otero, Cuban ambassador in Venezuela until 2009.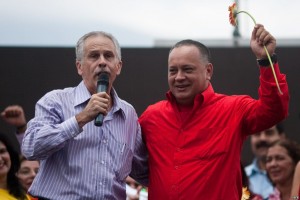 Sánchez Otero was removed from his position in Caracas after a shipment of drugs was discovered in one of the flights, Salazar claimed. The ambassador's son was arrested, while Chávez's son attended a rehabilitation center to overcome a drug addiction.
Industry Minister José David Cabello — brother of Diosdado — was also mentioned in relation to a money-laundering scheme carried out through PDVSA.
In response to accusations that he was the founder of the Soles Cartel, Diosdado Cabello argued in a TV interview that "imperialist money" was behind the allegations.
Venezuelan President Nicolás Maduro publicly backed his regime ally, claiming that "international right-wing extremists are responsible for launching a smear campaign against Cabello."
Maduro claimed that the allegations were part of a Miami-based plot funded by "dirty drug-trafficking money." The Venezuelan premier also claimed to have evidence that the "smear campaign" is funded by the same sources that "paid for the trip of former Presidents Andres Pastrana [Colombia], Felipe Calderón [Mexico], and Sebastián Piñera [Chile], to take part in a forum organized by the Venezuelan opposition."
Source: El Nacional.