EspañolOn Saturday, January 24, the Honduran Congress voted down an initiative to grant constitutional status to the Military Police for Public Order (PMOP), thwarting efforts by President Juan Orlando Hernández to put the newly created security body on the same legal footing as the armed forces and national police.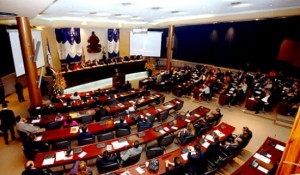 In 2013, while president of Congress, Hernández backed the creation of the PMOP as an additional security force to help combat endemic gang-related violence. However, Saturday's proposal only received 61 of the 86 votes required for it to pass.
However, Hernández, who came to the presidency in 2014, afterwards called for a 2017 plebiscite on the issue.
"What better way than allowing the Honduran people to say yes or no in a plebiscite," said Hernandez. On Sunday, January 25, he kicked off a "town by town" campaign to back a popular vote.
"Today begins a town by town campaign for the plebiscite, that will allow the people to exercise their freedom of expression, and their right to decide if they want the Military Police included in the Constitution," he said.
Opposition party leaders welcomed the Congressional rejection of the president's initiative. Deputy Doris Gutíerrez, from the Innovation and Unity-Social Democratic Party (PINU-SD), said that rather than granting constitutional status to the PMOP, she would prefer to see a "purification and strengthening in the National Police, so that this body can guarantee security for Hondurans."
Upon the creation of the PMOP in 2013, human-rights activist and coordinator for disappeared-persons NGO Cofadeh said the Honduras was witnessing a "reversal in the demilitarization of society and the democratization of the country."
Manuel Zelaya, opposition leader and former president (2006-2009), suggested that the Congressional vote represented a "slap in the face to the whims" of Hernández, whom Zelaya accuses of trying to impose a dictatorship.