EspañolOn Thursday, January 22, a Guatemalan court ordered former Police Chief Pedro García Arredondo to pay GUA$9 million (US$1.15 million) in compensation to the victims of the 1980 assault on the Spanish Embassy in Guatemala City, which left 37 people dead. The court also sentenced Arredondo to 90 years in jail for his role in the incident on Monday, January 19.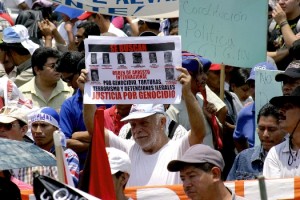 The judge ruled that Arredondo must compensate victims' families for the "moral damage" he caused, giving him three days to deliver payment. The plaintiffs originally requested over GUA$72 million (US$9 million) in compensation, but the amount was reduced by the court.
The embassy crisis took place on January 31, 1980, when security forces assaulted the building after its occupation by Guatemalan campesinos, indigenous activists, and students protesting against human-rights violations carried out under the military rule of General Fernando Romeo Lucas García. A fire broke out in confused circumstances, killing all protesters and staff inside with the exception of Ambassador Cajal y López and activist Gregorio Yujá Xona, who was later murdered.
Among the dead were the Spanish consul, Jaime Ruiz del Árbol Soler, and embassy employees Luis Felipe Sanz and María Teresa Vázques. Also killed in the blaze was Vicente Menchú and Francisco Tum, the father and cousin of indigenous activist and 1992 Nobel Peace Prize recipient Rigoberta Menchú Tum.
Menchú was the first to give evidence before the prosecutor against the former police chief, and is also a plaintiff in the case. Her family is among those who the court ordered Arredondo to compensate.
According to the ruling, García Arredondo, 69, was guilty of "murder, intent of murder, and crimes against humanity." The judge found that Arredondo ordered his division of the now-disbanded National Police to set the embassy on fire.
The 90-year prison sentence consists in 40 years for the killings of the 37 victims in the embassy, and an extra 50 years for the murder of two students, shot during the burial of the victims two days after the assault on the embassy. However, the former police chief will only serve a maximum of 30 years, the maximum applicable sentence at the time of the incident.
According to a 1999 UN-sponsored report, at least 245,000 people died or disappeared in the 1960-1996 Guatemalan civil war.