EspañolOn Monday, January 19, Peruvian President Ollanta Humala denied allegations that he used the nation's intelligence agency to spy on his vice president, Marisol Espinoza, and opposition politicians.
The previous day, a local television program Sin Medias Tintas claimed in a report that an official with the National Intelligence Directorate (DINI) and an army commander acted under direct orders from President Humala to carry out the surveillance.
"My government has always had and have the most outright respect for democratic values and liberties ingrained in the Constitutions, because I believe in them and I fought to recover them at the most critical moment," said Humala.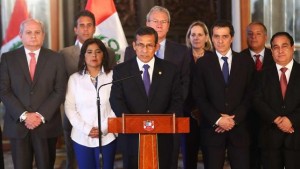 Humala, who has said that he is open to facilitating the investigation, announced that his administration "has been thoroughly following" the allegations by the press pointing to DINI officials.
"We are very concerned with clarifying these allegations.… I have told the authorities in charge of the operations of the intelligence agencies to fully cooperate with the investigations and, if needed, to enforce the most severe penalties," he said.
The Peruvian president also mentioned the National Intelligence Service (SIN) which, during the administration of Alberto Fujimori (1990-2000) and under the management of his main adviser Vladimiro Montesinos, was at the epicenter of illegal espionage and several cases of corruption.
"The probable existence of private investigation services outside the government sphere should not stain the good behavior of Peru's intelligence services," Humala remarked.
In turn, Espinoza said via Twitter that she was "outraged" by the alleged spying and condemned the unlawful behavior.
Indignada, repudio estas prácticas delincuenciales y exijo una exhaustiva investigación.Me rehusó a pensar q el gobierno esté detrás de esto

— Marisol Espinoza (@MarisolEspinoz_) January 19, 2015

Outraged, I condemn this unlawful behavior and demand a comprehensive investigation. I refuse to think that the government is behind this.
According to Peruvian daily Correo, there are photographs and videos of several opposition politicians that could provide evidence of the alleged spying activities of Peru's intelligence services.
Source: Infolatam.