EspañolThe new year began in Veracruz, Mexico, with the disappearance of Moisés Sánchez Cerezo, a journalist and activist dedicated to reporting on the violence suffered by the region's inhabitants.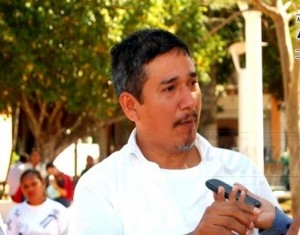 According to his family, a group of armed men in civilian clothes broke into the journalist's home and kidnapped him, taking also his camera, computer, and cell phone. The Attorney General's Office of Veracruz has stated they have begun the work of finding the missing journalist.
Sánchez Cerezo is a reporter, photographer, and director of La Union, a newspaper distributed in his community for free. He also works as a taxi driver and runs a small grocery store to support his family.
The La Union newspaper is known in the area for reporting on cases of corruption among municipal authorities, road accidents, and complaints from residents regarding violence and theft in the region.
Sánchez Cerezo was also actively involved in his local neighborhood watch, and organized protests against the abuses of current mayor of Medellin de Bravo, Omar Cruz Reyes. The journalist recently protested against an attack that killed a trader in the city.
Jorge Sánchez, son of the disappeared journalist, said on Tuesday, December 30, that a man threatened his father and said he would "give him a scare" three days before he disappeared.
Relatives have expressed their belief that the kidnapping is directly related to Sánchez's journalism and activism, and have suggested Mayor Cruz Reyes may be the one responsible for his disappearance.
Journalist groups and other NGOs in Mexico have requested from authorities an "urgent intervention in the grave violation of human rights that have been committed against the journalist." According to the release, 15 journalists have been killed in the state of Veracruz since 2000.
Cruz Reyes responded to the family's allegation by saying he has a "clear conscience" and will cooperate with the investigation as necessary.