Health Minister Florence Duperval Guillaume was named as Haiti's interim prime minister on Sunday, December 21, a week after the resignation of Laurent Lamothe following widespread anti-government protests.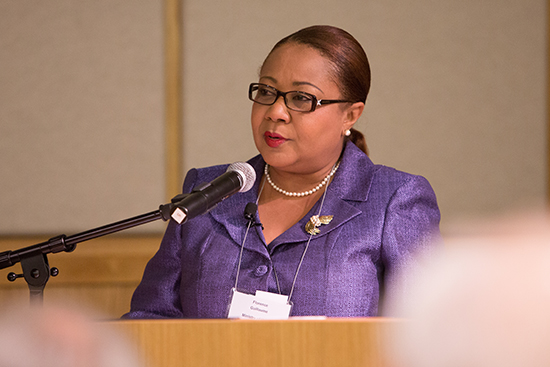 Duperval Guillaume is constitutionally permitted to hold the post for a maximum of 30 days. A permanent successor will then need to be presented to parliament by President Michel Martelly, according to Enex Jean Charles, secretary general of Haiti's council of ministers.
The changes come amid a political stand-off over legislative elections, which have been postponed several times since 2011. Opposition senators have used a parliamentary procedure to prevent a vote authorizing elections, instead demanding President Martelly's resignation.
Echoing opposition demands, hundreds of people have taken to the streets of Port Au Prince, Haiti's capital, in recent weeks. On December 12, Haitian and UN police forces clashed with protesters, killing one.
As confrontations showed no sign of abating, Lamothe and several ministers resigned, following the recommendations of an independent commission formed to to find a way out of the crisis. The commission has also recommended that senior electoral officials are replaced, and called for the release of jailed activists the opposition consider to be political prisoners.
Martelly will now have to name a new permanent prime minister to replace Duperval Guillaume, who must then be approved by the opposition-controlled Parliament.
On January 12, 2015, the term of the current Senate will expire, leaving the country without a functioning government. The president may sign a decree enabling elections to be held in the first half of the year.
Haiti, the poorest and most unequal country in the western hemisphere, is still recovering from an earthquake in January 2010 that levelled much of Port-au-Prince and the country's infrastructure, as well as claiming over 100,000 lives.
Sources: Al Jazeera, AP.