EspañolArgentinean President Cristina Kirchner announced on Monday that her speeches will be mandated for airing on prime-time national television. The measure, she claimed on December 15, will help disseminate important information that would otherwise be disregarded by the media.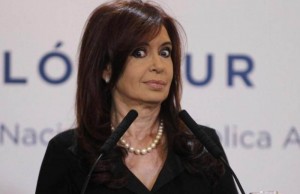 "We want people to be aware of the things we have announced today, and this is the only way we can do it," Kirchner said. "We would like to rely on the support of the press, and the media, but we already know that they focus on certain things I say and ignore the rest."
The first speech, as promised, was broadcast live and direct on Argentina's government-owned  Channel 7 at 6:20 p.m. local time, on Monday. An hour and a half later, that day's speech was rebroadcast, and all major television stations were forced to transmit it. The recorded version lasted one minute less than the original 20-minute speech, omitting the applause and cheers from Kirchner supporters at the end.
Kirchner used her first televised address to announce a new public dental plan dubbed Argentina Sonríe (Smile Argentina). The project envisions free treatment and the extended use of mobile clinics. She further announced grants of AR$387 million (roughly US$30 million) for schools nationwide.
The president also praised the latest OECD and UN reports which shows Argentina as the biggest regional investor in public education. However, Kirchner failed to mention that Argentinean educational establishments lag behind their neighbors in terms of performance.
On the morning of Tuesday, December 16, Cabinet Chief Jorge Capitanich defended in a press conference the broadcast of the speech, lamenting the lack of support for the "positive policies of the government."
"The national broadcasts, with objective, reliable and true information … permit citizens, independent of their location, to access information allowing them to exercise their rights," Capitanich told reporters.
Sources: Perfil, Buenos Aires Herald.