EspañolHaitian President Michel Martelly met with senior officials on Monday, December 15, to discuss the appointment of the nation's next prime minister. The move follows the resignation of Laurent Lamothe after weeks of opposition protests.
Lamothe stepped down late on Saturday, December 13, in response to mounting pressure over the failure of the government to hold elections promised in 2011. An advisory commission set up to break the deadlock had advised that Lamothe resign on Friday.
In a televised address screened early Sunday morning, Lamothe was positive about the results achieved since May 2012, citing a drop in extreme poverty rates from 31 to 24 percent. However, Haiti remains the poorest country in Latin America, and has faced dwindling investment since an earthquake in January 2010.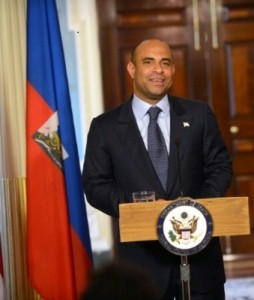 "Despite all of these accomplishments, if this is what can truly unblock the political crisis, I've decided," Lamothe said, "to hand President Martelly my resignation and that of the entire government."
Divisions between the executive and the legislature caused municipal and legislative elections due on October 26 to be indefinitely postponed.
Martelly's meeting on Monday with Chamber of Deputies President Stevenson Jacques Thimoleon and Senate President Dieuseul Desras saw the trio work to find a successor for Lemothe, a close friend of the president.
The advisory commission — established by Martelly in November in response to ongoing demonstrations —  has also recommended the removal of several other senior electoral officials.
Demonstrators fear that Martelly plans to rule beyond the expiry of his mandate in January 2015. Many have also criticized US support for the Martelly administration despite ongoing poverty and insecurity.
Meanwhile, international observers from the UN Core Group believe that Lemothe's resignation is likely to reduce tensions between the rival camps and help generate consensus over the future.
Sources: Terra, El Caribe, Miami Herald.