Español A congressional spending bill released on Tuesday could effectively block a voter-approved initiative to legalize recreational use of marijuana in Washington, DC.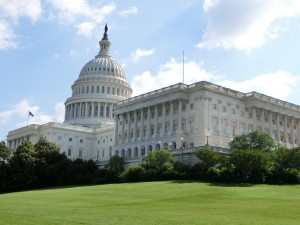 The bill includes a provision stating no federal funds "may be used to enact or carry out any law, rule, or regulation to legalize or otherwise reduce penalties associated with the possession, use, or distribution" of marijuana or derivatives.
However, legalization proponents have said the language in the bill may still allow the DC initiative to move forward. "Some advocates I've spoken with aren't so sure" the bill blocks legalization, Marijuana Majority chairman Tom Angell told the Huffington Post. "It all hinges on the definition of the word 'enact.'"
If it stands, the initiative would allow adults in DC over the age of 21 to possess up to two ounces of marijuana, grow up to six plants, and give marijuana to other adults.
Angell explained that the question is whether Initiative 71 should be considered "enacted" on the day of the election last November, or whether it means the District Council transmitting the initiative to Congress for review, which has not yet occurred.
Under the Home Rule Act of 1973, the nation's capital can elect a local government, however, the Congress must review and pass all the legislation passed by the City Council.
Unlike the initiatives approved in Alaska, Washington, and Colorado, DC's Initiative 71 would not legalize, regulate, or tax sales, because voter initiatives in DC can't have a direct impact on the local budget.
The budget bill, which is likely to be passed next week, will not change the DC Council's decriminalization of marijuana that was enacted earlier this year.
If the Congress blocks marijuana legalization in the capital, it would not be the first time. In 1998, 69 percent of voters approved medical marijuana legalization, but the US Congress blocked the law's implementation for more than a decade.
Source: Huffington Post, Vox.