EspañolOn Monday, a group of Honduran deputies filed a constitutional challenge before the Supreme Court seeking to end the ban on consecutive reelection for incumbent presidents.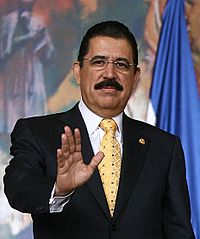 The ruling National Party deputies Antonio Rivera Callejas and Óscar Álvarez led the action, joined by Deputy Edwin Pavón of the Democratic Unification Party.
"We come to file an action of unconstitutionality against the first paragraph of Article 239 [of the Constitution] that states that the incumbent president cannot run for a consecutive term", said Deputy Álvarez. "In this modern world, we can't have a muzzle. We want to debate all these topics' we are not talking about the presidential reelection, but the punishments and bans."
Former President Rafael Callejas said that the restriction on reelection "has no logic," and called for a repeal of the articles that impose punishments "simply for advancing a legislative reform."
The second paragraph of the article in question states that any officeholder "who violates this provision, or proposes its reform, as well as those who support such a violation directly or indirectly, will immediately cease in their functions and will be unable to hold any public office for a period of 10 years."
Deputy Tomás Zambrano explained that the move "aims to avoid further violation against the lawmakers and the citizens because it removes the muzzle to discuss reelection." He further added that the proposal is meant to "remove the difficulty from talking, thinking, or dreaming."
In the same vein, Deputy Rivera Callejas said the action "not only opens the chance to openly discuss presidential reelection but also recovers essential respect for civil liberties and human rights."
In response, Doris Gutierrez, a deputy from the Innovation and Unity Party, said the congressmen who introduced the proposal should "already be disqualified from holding public office," given that their actions violate the rules they are challenging.
In 2009, former President Manuel Zelaya was removed from office after proposing a popular referendum on whether to allow consecutive presidential reelection in Honduras.
Source: La Prensa.