EnglishMexican Attorney General Jesús Murillo Karam announced on Sunday that charred remains found near the shore of the San Juan River in Cocula, Guerrero, belong to Alexander Mora, 19, one of the 43 Ayotzinapa students who was forcibly disappeared two months ago.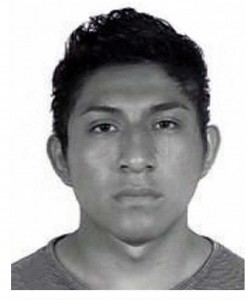 Forensic experts at the University of Innsbruck in Austria said the DNA recovered from bone fragments matches those of the student's relatives.
The Argentinean Team of Forensic Anthropology (EAAF), which is assisting Mexican authorities in the field, has stated they were not present when Mexican federal police found the bag containing Mora's remains. The team of experts said the bag was already opened and in a cleaning area when they arrived to the site.
The team of experts emphasized that they have still not confirmed any link between the remains found near the river and those recovered from a landfill in Cocula. Three detained members of the criminal gang Guerreros Unidos told Mexican authorities they dumped the missing students' bodies in the landfill, as well as the river.
During a press conference, Murillo Karam restated that authorities have so far detained 80 people in connection to the case, including Cocula Police Deputy Director César Nava González and an alleged leader of the Guerreros Unidos, Sidronio Casarrubias Salgado.
Families of the victims held protests in Mexico City on Saturday and told CNN Mexico that they learned of the confirmation of Mora's remains on December 6, prior to the attorney general's official announcement. They also stated they would not rest until all of the missing students are found.
The head of the Austrian Institute of Legal Medicine, Richard Scheithauer, said in a press release that the chances of positively identifying other remains would be "very low," considering their condition.
Alexander Mora's remains will be returned to his family in about two weeks, according to his father, Ezequiel Mora.
María Inés Mora, the student's aunt, said his family has been overcome with a sense of confusion, since only a few days ago they had still hoped to find Alexander alive. Meanwhile, the Guerrero state government has declared three days of mourning after confirmation of Mora's death.
https://twitter.com/GuerreroComSoc/status/541746568031133696/

How can we not wake up with the pain of knowing Alexander Mora, an Ayotzinapa student, is dead.
Sources: El Universal, CNN México.