On Wednesday afternoon, a Staten Island grand jury dropped the criminal charges against the New York City police officer who choked Eric Garner to death while arresting him.
The fatal encounter took place in July when NYC police arrested Garner for allegedly selling loose cigarettes on the street. Daniel Pantaleo, the officer who used a chokehold on Garner, testified before a grand jury on November 21, claiming he never intended to choke Garner, and never considered him to be in mortal danger. A video recording of the arrest shows Garner yelling, "I can't breathe," while being restrained.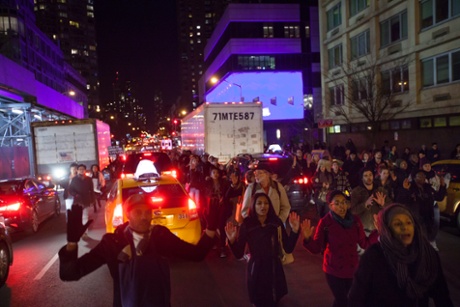 A wave of protests swept through New York City after news of the grand jury verdict was released on Wednesday evening. Thousands of demonstrators disrupted New York City traffic at locations throughout Manhattan, including Grand Central Terminal, Times Square, and near Rockefeller Center.
Civilian protests of the decision were complimented by renewed calls from elected officials for the Justice Department to intervene, claiming the ruling proved justice in this case could only be found in federal courts. Facing increased pressure, the Justice Department announced Wednesday night that it would open a civil-rights inquiry into the case.
"Now that the local investigation has concluded, I am here to announce that the Justice Department will proceed with a federal civil rights investigation into Mr. Garner's death," said US Attorney General Eric Holder. He went on to acknowledge that many US citizens are likely to feel inclined to protest the grand jury verdict, and he urged them to do so peacefully.
"When anybody in this country is not being treated equally under the law, that is a problem," said President Obama, "and it's my job as president to help solve it." Obama has already faced criticism this year for his response to unrest in Ferguson, Missouri, where a white police officer shot and killed an unarmed black teenager, Michael Brown, earlier this year.
https://www.youtube.com/watch?v=j1ka4oKu1jo
Sources: Guardian, New York Times.