EspañolThe forced disappearance of 43 students in Iguala, Mexico, has not only sparked intense protests across the country, it has also compelled the national government to consider significant reforms to the nation's security and judicial system.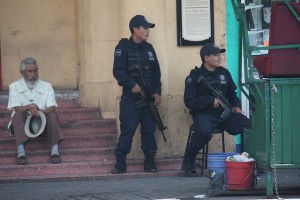 President Enrique Peña Nieto announced the reform package on Thursday, November 27, and seeks changes to seven articles in the Mexican Constitution. The Senate reviewed the initiative on December 1, and sent it to committees for debate on Tuesday.
If passed, the president's proposal would eliminate the 1,800 local police departments throughout the country, many of them infiltrated by organized crime, and establish 32 state police agencies to address the security needs of the country.
"The municipal police are mostly entities that lack the human and material resources necessary to properly perform their functions, or even to develop an effective territorial deployment. Eighty six percent of these municipal entities have fewer than 100 agents," reads the bill.
Peña Nieto's proposal also seeks to redefine jurisdiction between local and federal authorities, in addition to granting Congress the power to pass general criminal law.
In an effort to prevent future cases like Iguala, the federal government also seeks the power to intervene and dissolve local governments where there is "sufficient evidence" criminal gangs have compromised them. The Attorney General's Office would be tasked with reporting such activity to the Ministry of the Interior and then submit a request to the Senate to commence a federal takeover of a given municipality.
Both majority and minority leaders in the Mexican Congress have pledged to "work hard" to build consensus and approve the bill.
Source: CNN México.