EspañolOn Sunday, the Revolutionary Armed Forces of Colombia (FARC) released kidnapped army general, Ruben Darío Alzate. The rebels also freed two other hostages — an army corporal and an attorney — captured in the northwestern jungle area of Chocó on November 16.
Colombian President Juan Manuel Santos announced the news via Twitter on Sunday morning.
Liberados BG Alzate, abogada Urrego y cabo Rodriguez en perfectas condiciones y esperando condiciones climáticas para regreso a sus familias

— Juan Manuel Santos (@JuanManSantos) November 30, 2014
Gen. Alzate, attorney Urrego, and Corporal Rodriguez were released and are in perfect health. Waiting for weather conditions [to improve] to return to their families.
FARC leader Pastor Alape, who traveled from Hanava to Chocó, oversaw the prisoner release, along with representatives of the International Committee of the Red Cross and the Cuban and Norwegian government.
After the release, Alzate and the other hostages were moved to Bogotá, where "it was determined that they are in good health," said Esperanza Clara Galvis, director of the Military Hospital in Bogotá.
On November 16, after Alzate's capture, President Santos suspended peace talks with the rebels held in Havana, and made the hostage release a condition for resuming negotiations.
Alzate will be expected to answer questions from the Colombian Congress regarding the circumstances of his abduction, including why he was dressed in civilian clothes, and chose not to inform the administration of his trip to Las Mercedes or request military support.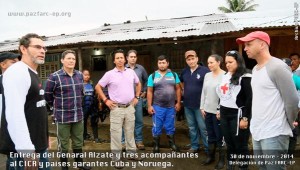 The FARC indicated in a press release that this latest episode will require both sides to agree to "new rules of the game," and invited President Santos to consider a "bilateral ceasefire."
"We invite President Santos, with our heart in our hands and common sense in mind, to consider that we can no longer permit the absurd situation of carrying out dialogues for peace in the midst of war. It's time for a bilateral ceasefire, an armistice," affirmed the guerrilla.
Santos said the FARC's attitude "helps to restore a proper climate to go on with the dialogues and demonstrates the maturity of the process." However, the president discarded any changes to the points of agreement already established during negotiations.
"The agenda for the process … has to do with five points of negotiation, and this has not changed. We have reached an agreement on three of those points, and we will continue working to reach agreement over the remaining two," he said.
Source: El Espectador.