EspañolOn Sunday, thousands took to the streets of Santiago and other Chilean cities to demand a constituent assembly to reform the nation's Constitution, one of the promises President Michelle Bachelet made during her presidential campaign last year.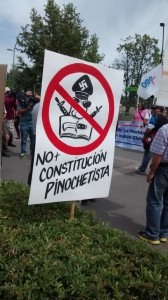 Police estimated 3,500 protesters participated in the demonstrations, while organizers put the figure around 10,000. Demonstrators marched down the main thoroughfare that runs through the Chilean capital, demanding the current constitution be scrapped.
Marco Enríquez-Ominami, two-time presidential candidate for the Progressive Party, said the ruling New Majority party has the votes needed to pass constitutional reform in Congress.
Álvaro Ramis, a protest organizer, said he hopes the march "will make the government give a clear statement regarding the mechanisms for constitutional change, after President Bachelet promised a new constitution."
"We say that there can't be a new Constitution without a constituent assembly, which is the only procedure to develop a new Constitution," said Ramis.
During presidential elections last year, proponents of constitutional reform called on voters to write "AC" on their ballots for asamblea constitucional, the Spanish term for constitutional assembly.
The Chilean Constitution has undergone a number of reforms since it was adopted in 1980 during the dictatorship of Augusto Pinochet (1974-1990), including 14 reforms in the last five years.
Sources: Cooperativa, El Diario.