EspañolColombian President Juan Manuel Santos has suspended peace talks with the Revolutionary Armed Forces of Colombia (FARC), after the rebels captured a senior army general and two others in Chocó, in the northwestern region of the country.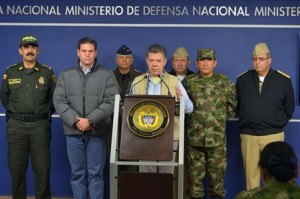 "Tomorrow negotiators were to travel for another round of talks in Havana," Santos said on Monday. "I will tell them not to go, and that the talks are suspended until these people are released."
FARC rebels kidnapped General Ruben Darío Alzate, along with Army Captain Jorge Rodriguez Contreras, and a civilian lawyer, Gloria Urrego, after disembarking from a boat on the Atrato River, near Las Mercedes, a region with a high level of guerrilla activity. Alzate is the most senior army official the FARC has kidnapped in recent times.
Colombian Defense Minister Juan Carlos Pinzón said that FARC's 34th Front intercepted Alzate's group during a visit to an energy project. The soldier driving the boat managed to escape and informed the authorities.
According to a military report, Alzate disembarked despite being warned of the risks involved in the area.
"Rebels of the FARC's 34th Front caught the [military officials]. They left from houses in the area and immediately took the general as a hostage and seized his belongings, despite being dressed in civilian clothes," explains a military report obtained by local newspaper El Espectador. 
President Santos questioned whether the general may have disregarded security protocols, traveling in civilian clothes in a high-risk area. However, Santos placed the blame for the kidnapping solely on the FARC guerrilla.
Mindefensa y Cdte Gral: quiero que me expliquen por qué BG Alzate rompió todos los protocolos de seguridad y estaba de civil en zona roja

— Juan Manuel Santos (@JuanManSantos) November 17, 2014
Minister of Defense and Army Commander: I demand to know why Gen. Alzate broke all security protocols and was dressed as civilian in a red zone.
"This kidnapping is completely unacceptable," the president said. "The FARC is responsible for the life and the security of these three people."
This latest kidnapping comes only two days after the FARC captured two Colombian soldiers in the northeastern department of Arauca.