EspañolOver 2.3 million Catalans voted on Sunday in a symbolic referendum on the issue of independence, defying legal and political objections from the central government in Madrid. An overwhelming 80 percent of voters  — roughly 1.8 million people — voted in favor of the measure.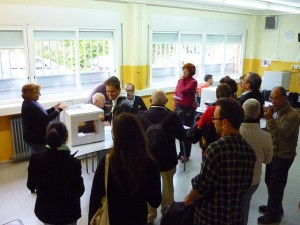 The referendum posed two questions to voters: should Catalonia be a state, and if yes, should it be an independent state? According to Catalonia Vice President Joana Ortega, early results show 80.7 percent of voters replied "yes" to both questions.
Approximately 10 percent voted "yes" to the first question and "no" on the second, while only 4.5 percent voted "no" on both questions. The head of the Catalan regional government, Artur Mas, called Sunday's vote "a total success."
"The people of Catalonia have made it very clear that we want to govern ourselves. It is an old aspiration, which dates back centuries and remains perfectly alive," he added.
The vote took place despite the Spanish government and its Constitutional Court having deemed the referendum "illegal." Justice Minister Rafael Catala dismissed the vote as "fruitless and useless."
"The government considers this to be a day of political propaganda organized by pro-independence forces and devoid of any kind of democratic validity," he said.
Only one out of three eligible voters decided to take part in the straw poll, which analysts considered a low turnout. "They expected to get much more. This means that in a hypothetical real referendum they have a problem," Gabriel Colome, political science lecturer at Barcelona's Autonomous University, told AFP.
A judge in Barcelona said he will not take measures against those participating in the electoral process, although organizers will be prosecuted. Judge Gonzalo de Dios said there is no crime in participating in "elections, referendum, or whatever name you want to call this act of channeling the popular will." He previously dismissed three requests to suspend the vote.
Source: El País.