EspañolCuba's National Revolutionary Police (PNR) has summoned Joisy García, one of the founders of the Anarcho-Capitalist Club of Cuba, demanding he report to PNR offices next Saturday.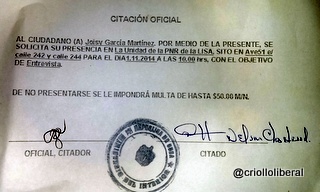 García received the citation on Thursday, two days after the PanAm Post published a story describing the Cuban regime's crackdown on the club.
Cuban-American activist Elaimy Sierra, the group's spokesperson, said the Cuban government has been intercepting e-mail communications between her and other club members.
"I didn't understand then, and I still don't understand now, if freedom is based on spontaneous human actions, of if we exercise it as a basic moral principle. These are human rights that complicit and demagogic institutions grant to a select few elements that promote socialism and totalitarianism. The citation I received for next Saturday speaks for itself," García said in a statement regarding his case.
García has said he will refuse to appear before the PNR. "Please friends, denounce this lack of respect, we will not attend this affront."
Elaimy Sierra told the PanAm Post that this is not the first time García has been summoned. "He was assaulted several times. He lost a number of teeth, and has a herniated disc from the beatings," she said from the United States.
Neither Sierra nor the PanAm Post have been able to make contact with García or Chatrand.
On Monday, the island's only libertarian group met to discuss a documentary about Ludwig von Mises, whose thoughts and ideas they share via Misescuba.org. On Thursday, the Anarcho-Capitalist Club posted videos on their Facebook page alleging abuse at the hands of the Cuban government.