EspañolCosta Rican authorities spied on professional soccer player Keylor Navas after he joined the Spanish club Real Madrid last August, according to a report released Wednesday from the Costa Rica Attorney General's Office and Judicial Investigation Department (OIJ).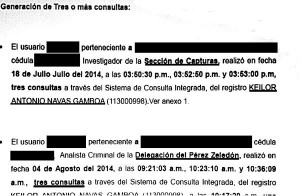 Agents illegally accessed the goalkeeper's personal file 42 times, while performing nine other inquiries on the files corresponding to his two sisters.
"There is no reason to investigate. Police, prosecutors, and judges all have access to this system,"  said Francisco Segura, head of the OIJ, during a press conference. "Twenty four investigators and four prosecutors made inquiries into Keylor Navas's public information."
"This is information that can be found on public registries, such national identification number or a list of properties in your name. The problem is that they used police tools, and this you cannot do; it is only to investigate criminals," said Segura.
"We can only punish these agents with a 15-day suspension. The public ministry could seek criminal charges. It seems serious, but I cannot do anything more," he concluded.
Navas, however, is not satisfied with a 15-day suspension, and has announced he will file a lawsuit against the agents who infringed on his privacy. Henry Vega, Navas's lawyer, explained that his client is not seeking monetary compensation, but rather clarification.
"Keylor is interested in punishing those who are responsible, and to ensure no one else is subjected to this abuse," said Vega.
Real Madrid signed Navas for €10 million (US$12.5 million) after a stellar performance at the 2014 World Cup in Brazil. With an annual salary of €2 million (US$ 2.5 million), Segura suspects Navas and his family could have became targets for criminals in his home country.
Segura warned the 28 Costa Rican agents that spied on Navas that they would face harsh consequences should any harm come to the goalkeeper or his family. "I hope nothing happens to him, but if it happens, I will personally go after them," said Segura.
Sources: Defensa Central, El País, El Nacional.