EspañolOn Thursday, the leadership of the United Socialist Party of Venezuela (PSUV) launched their annual campaign, "A Day's Pay for the Revolution." The campaign's goal is to get its 7 million members to contribute one day's pay of their monthly earnings to the ruling party.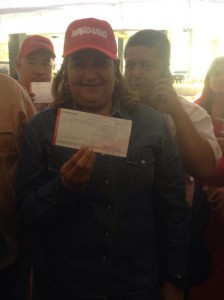 Yelitza Santaella, PSUV vice president and governor of the state of Monagas, called on "every committed militant" to give "a contribution to the revolution, to the party of the eternal commander, to the party of [Hugo] Chávez."
The campaign will go on from October 30 to November 30, and contributions can be deposited at "any of the Revolution's banks," or by sending a text message with the words "we will win" to the party, according to a PSUV video.
Santaella, who also heads the PSUV's Finance and Logistics Committee, said the campaign is part of a budget plan approved by President Maduro, but did not specify how much money the party intends to raise. In 2013, the PSUV's contribution campaign raised roughly 25 million Bs. (US$245,000).
https://www.youtube.com/watch?v=6uejGuZOxhg
According to PSUV by-laws, it is the duty of every party supporter to "contribute according to the rules of progressivity and proportionality." In turn, Ernesto Villegas, head of the Capital District, said on state-run television channel VTV that the financing of the Chavista party is necessary to continue the government's social programs.
"It is the duty of all revolutionaries to go out and contribute, even if it's a very insignificant sum … [so that] this party can finance its activities," he said.
Source: NTN24.