EspañolVenezuelan President Nicolás Maduro on Thursday called for the arrest of three businessmen connected to two importers of medical supplies. An inspection found medical products stored in the companies' warehouses, and the regime seized 56 different products — among them a reported 14 million syringes and 3,000 wheelchairs.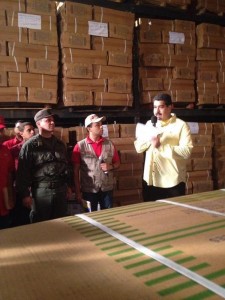 "The owners are bourgeois, who have hoarded medical supplies of the nation," Maduro claimed from one of the raided warehouses.
Since 2004, the companies under investigation have been cleared for foreign-exchange operations to the tune of US$236 million to import the supplies.
Maduro said that authorities were "actively" hunting the businessmen, who will pay "with their own property, accounts, and jail … all the damage they are doing to Venezuela."
The president has even set up a phone line, "0800-IsFair," (0800-LoJusto), so people can "help the government" find the whereabouts of the owners of Suplidora Hospimedic 2004 and Suministros Médicos Jayor, and to provide information regarding similar cases.
The companies accused by Maduro have yet to make an official statement regarding why they had medical supplies warehoused.
#EnFotos | Incautadas más de 14 millones de jeringas y casi 3 mil sillas de ruedas acaparadas por Suministros Jayor pic.twitter.com/dpjTR0PKHG

— VTV CANAL 8 (@VTVcanal8) October 24, 2014
"Over 14 million syringes and 3,000 wheelchairs hoarded by Suministros Jayor."
Also on Thursday, Maduro decreed a reform to the Fair Prices Law and set new penalties for smugglers, who now face the same penalties as drug-dealers. "In other words, smugglers who divert essential goods from our country, will face between 10 and 14 years in prison and full confiscation of assets, banking accounts, vehicles, and planes," explained Andrés Eloy Mendez, superintendent of Fair Prices.
Maduro said he was "outraged" with the sale of essential goods within the informal economy and passed a decree restricting the sale of those items: "Thievery must come to an end … and I ask the informal economy to join this battle for the honor of the people."
Sources: El Tiempo, El Espectador.