EspañolThe Dominican Republic has been found guilty of human-rights violations, according to the Inter-American Court of Human Rights (IACHR) decision released on Wednesday. The ruling against the Caribbean nation focused specifically on "illegal and arbitrary detentions and further summary deportations of Dominican and Haitian nationals from the Dominican Republic to Haiti" in 1999 and 2000.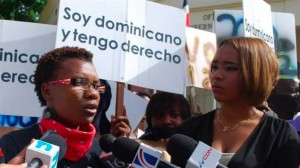 However, the ruling also "determined the existence, at least for a term of roughly 10 years starting in 1990, of a systematic pattern of deportation, including … Haitians and people with Haitian ancestry, which answers to a discriminatory scheme."
"Identity cards of some victims were destroyed or rejected by national authorities at the time of the deportation or, in other cases, victims born in the Dominican Republic were neither registered nor with documentation proving their nationality," the court says.
The IACHR describes the Dominican Republic as "internationally liable for the violation" of articles of the American Convention of Human Rights — specifically "the right to a legal personality, to a name, to a nationality and, on account of those violations, the right to one's identity."
The court also mentions violations of children's rights, as in the case of four minors "who were born in Dominican territory, but had not been registered nor had documentation proving their nationality."
Addressing a 2013 decision by the Dominican Constitutional Court, when the bench chose to disenfranchise 200,000 Dominicans, IACHR stated that the ruling was not in line with the continental charter of human rights.
"Treating people born in the Dominican Republic like foreigners in a process of naturalization, even for a very limited time, implies a complete disregard for their right to a nationality," said Francisco Quintana from the Center for Justice and International Law (CEJIL), one of the organizations sponsoring the lawsuit.
IACHR has ordered the Dominican Republic to adopt measures to provide "integral reparation" and restore the rights to the victims, and to prevent this occurrence with "continuous and permanent training" for armed forces and migration authorities.