EspañolOn Sunday morning, a group of 19 Cuban rafters, including 14 males, three females, and two minors, came ashore on Cat Cays, Bahamas. The emigrants had to abandon ship when they ran out of fuel half a mile from the coastline, and swam until they reached the shore.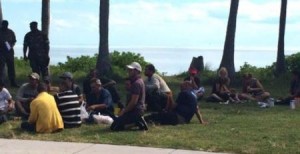 According to Guillermo Quirch, a Cuban resident in the Bahamas who witnessed his fellow nationals arriving on the island, the boat was 50 feet long, an unusual size for one carrying Cubans escaping from their country. Later, Royal Bahamas Defence Forces confirmed it was a 35-foot Bayliner motor vessel.
"I have never seen Cubans arriving in such a big boat. I have seen rafts, but never a boat of this size," said Quirch.
Quirch mentioned that the rafters were found sitting at a golf course. Residents suggested to the police that they use the church as a temporary place to host the Cubans, where they received medical treatment, food, and water.
The migrants were taken into custody by local authorities and handed over to immigration authorities at North Bimini, from where they will fly to Nassau, the Bahamian capital.
North Cay Cat, where the rafters were found, is a private island and home of the Cat Cay Yacht Club. Cat Cays is located 10 kilometers south of the Bimini Islands, the closest part of the Bahamas to the United States, 81 kilometers from the coast of Florida.
Despite some relief on travel restrictions for Cubans, enacted by General Raúl Castro, which stemmed an exodus of 22,000 Cubans in 2013 — a record high — a great majority of Cubans can't afford the costly passports and plane tickets.
During the 2013 fiscal year, about 4,000 Cubans reached the United States by water, representing a 75 per cent increase over the same period last year.
Sources: Martí Noticias, Bahamas Weekly.