EspañolThe inflation rate in Argentina has reached historic highs, according to figures by members of Congress on Tuesday. Opposition legislators announced that inflation rose 2.48 percent in September, translating to a yearly rate of 41.06 percent, the highest rate since 1991.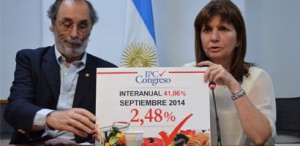 "The yearly rate is 41.06 percent. Everyone is already suffering from higher costs for food, rents, and services," said Deputy Patricia Bullrich as she presented the latest figures.
"The price variation is worrisome, because we are basing the national budget on inaccurate numbers," she added. The 2015 budget, approved last week in the Chamber of Deputies, cites a 15.6 percent inflation rate for the year, a far cry from the figure the opposition affirms.
"Last week we denounced the budget as a farce. What we have today is based on concrete evidence. This budget is impossible. We want to know why the government insists on lying to us. We believe it's in their nature; it's part of their DNA," said Deputy Pablo Tonelli.
"This deception has inflicted serious damage on our people," added Deputy Carlos Brown. "It's brutal, because people are forced to manage with an unreal situation. The discrepancy between reality and the official lie is more egregious each time. We'll keep trying, and see if Kirchnerismo changes [its position] once and for all."
The inflation figures released by Congress resemble other private estimates that suggest rates of between 2.2 and 2.7 percent per month.
Based on their distrust of the official government rates, and the threat of fines preventing private consultants from publishing their own estimates, a group of opposition deputies have released their own statistics based on private estimates every month since June 2011.
Sources: Infobae, Iprofesional.