EspañolOn Thursday, October 9, Mexican authorities arrested the alleged leader of the once-powerful Juarez drug cartel, Vicente Carrillo Fuentes. Police in Torreón, in the northern border state of Coahuila, Mexico, reported taking Carrillo Fuentes into custody in a "discreet, nonviolent operation, without a shot being fired."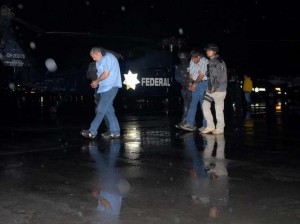 National Security Commissioner Monte Alejandro Rubido stated Carrillo Fuentes was one of the country's "122 main security targets," and indicated that his arrest was the result of the "coordinated work" of Mexican intelligence services.
Carrillo Fuentes, also known as El Viceroy, was the brother of the late drug kingpin Amado Carrillo Fuentes, nicknamed the "Lord of the Skies," founder of the Juarez drug cartel.
El Viceroy is said to have taken control of the criminal gang in 1997 after the death of his brother during a botched plastic surgery procedure. According to Rubido, Vicente Carrillo Fuentes turned Ciudad Juarez into one of "the most violent cities in the world, causing hundreds of deaths."
Between 2009 and 2011, the Juarez Cartel battled the Sinaloa Cartel for control of the territory, leading to a surge of violence that claimed the lives of hundreds. Authorities nabbed Sinaloa's top boss Joaquín "El Chapo" Guzmán last February after 13 years on the run.
Mexican authorities, along with the FBI, offered a reward of US$2.2 million and $5 million for information leading to Carrillo Fuentes's arrest.
Drug trafficking expert Ricardo Ravelo said that the drug lord's arrest "puts an end to Carrillo Fuentes dynasty," since he was the last living member of the family who remained free.
This is the second high-profile arrest of a suspected cartel leader in the last few weeks in Mexico. On October 1, authorities arrested Héctor Beltran Leyva, purported leader of the cartel that bears his name, without incident.
Sources: El Universal, Terra, Televisva.