EspañolWorst fears have been confirmed in the Mexican city of Iguala. Members of the criminal group Guerreros Unidos have come forward to admit they collaborated with local police in the murder of 17 of the 43 missing students in the state.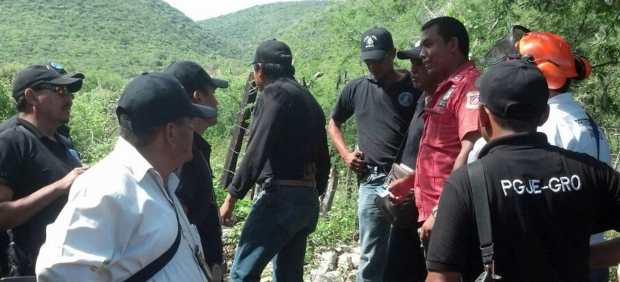 Iñaky Blanco, the attorney general of Guerrero, announced that two members of Guerreros Unidos and a municipal police officer confessed the location of a mass grave that was found on Saturday, northwest of Iguala. "They admitted to directly participating in the murder of the students of Ayotzinapa, having followed them from the moment that they arrived in the city of Iguala," said Blanco.
According to the state attorney general, the two hitmen said Iguala's public security director, who has since been arrested, told them to go where the students could be found. They also said their gang leader, "El Chuky," ordered them to kill the students.
"They fired on the students, making them get off the bus that they were traveling in. Then, they proceeded to capture 17 of them and transport them to a hill in Pueblo Viejo, where they had mass graves hidden. According to the criminals, this is where they finished the students off," Blanco said.
On Saturday, Mexican security forces found a mass grave holding 28 bodies, some of which were "fragmented" and badly burned, according to Blanco. Experts from Guerrero's attorney general's office and a team of nine Argentinean specialists will be tasked with identifying the remains.
Federal police forces took control over public security in Iguala on Monday. A convoy of 44 units of the National Gendarmerie and 15 units of the federal police arrived on Monday in Iguala to patrol the area. In addition, members of the military have also been deployed to provide support to the 250 federal police officers.
Following revaluations of the collusion between the municipal police and the Guerreros Unidos gang, National Security Commissioner Monte Alejandro Rubido announced that all members of the local police have been transferred to a training center for "evaluation and further training."
Rubido also stated the municipal police have been disarmed, and that their weapons will undergo ballistic testing to determine if they were used in criminal activity.
Meanwhile, Iguala Mayor José Luis Abarca and his Public Security secretary, Felipe Flores, are still on the run and their whereabouts are unknown. According to a story published on Tuesday in the Mexican newspaper El Universal, a Center for Research and National Security report has linked Abarca to organized crime.
Between Friday, September 25, and Saturday, September 26, six people were killed, 25 were injured, and more than 50 went missing, after confrontations between the police and a group of student protesters that gathered to commemorate the 46th anniversary of the Tlatelolco Massacre. On September 30, 13 of the missing students surfaced, claiming they hid to avoid ongoing violence in the area.
Sources: Univisión, El Comercio.