EspañolThe Bolivian government will soon install 1,500 new surveillance cameras aimed at improving security in the country. Bolivian Vice President Álvaro García Linera announced on Monday that he will acquire the surveillance equipment through a Chinese loan totaling US$35 million.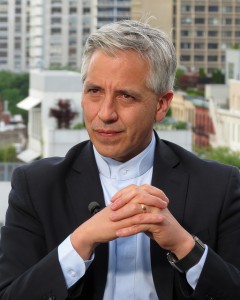 President Evo Morales's running mate, seeking a second term in office in elections set for October 12, explained that there are currently 700 cameras installed throughout Bolivia. He expects that number to increase to 1,000 by the end of the year.
"We already have close to 700 functioning cameras in major population centers throughout Bolivia. We are buying 1,500 other cameras, financed through Chinese credit," said the vice president.
"We are also going to install some special monitoring centers, like giant laboratories, that will observe every street and important shopping centers. We are taking on a loan of $35 million to boost our camera and central surveillance system."
In addition, García Linera pointed to the "excellent display of security" during the G77 plus China Summit in Santa Cruz, and said he is favor of applying the same measures throughout the country.
"The president and I have an objective. During the G77 summit, we had an excellent display of security and reduced crime by 20 percent. What we are going to do is take the [security] model used in Santa Cruz in June during the G77, and apply it across Bolivia."
Source: La Razón.