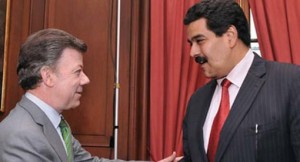 EspañolOn Tuesday, Colombian President Juan Manuel Santos asked the US federal government to rethink its stance on the commercial embargo with Cuba after more than half a century.
During a Harvard Club conference in New York, Santos called the US trade policy a failure: "I have faith that the United States and Cuba can form a working relationship that allows the United States to lift the embargo, that from my point of view has failed."
"It would be useful for the United States to rethink the situation — another way of being more flexible."
Santos used his policy toward Venezuela as an example. He says despite their distinct economic and political visions, the two nations form policies based on the "well-being of Colombians and Venezuelans."
"One can have a working relationship with very different people," he said.
His comments, however, have generated swift rebuke. Vicente Torrijos, a lawyer who specializes in international law, says Santos's comments are a "kind of payment of favors" for Cuban intervention in negotiations with the FARC. Torrijos described the Colombian president's position as "nonsense that has nothing to do with Colombian foreign policy" and an "act of meddling and interventionism in North American affairs."
Arturo Gálvez, director of the Department of Political Science at the Autonomous University of the Caribbean, said this is the first time a Colombian president has publicly called the embargo of Cuba a failure, and that Cuba must give "signals of change" for the embargo to be lifted.
Santos appears to have been edging closer to Nicolás Maduro's regime in Venezuela. In early September, Santos came under heavy fire for the deportation of two Venezuelan anti-Chavista student activists. Santos has also collaborated with Venezuelan officials on their newly implemented anti-smuggling policy.
Source: El Heraldo.