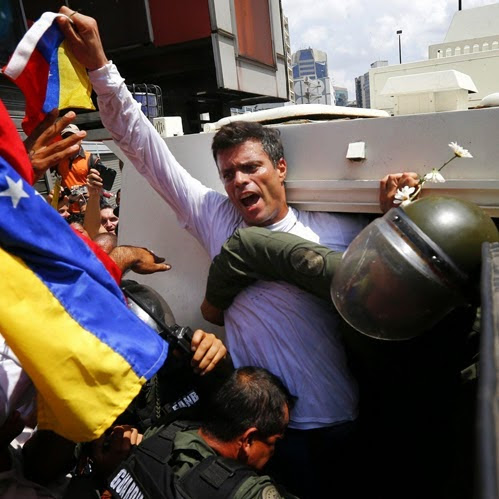 EspañolUS President Barack Obama made an appeal on Tuesday, calling for the release of Venezuelan opposition leader and political prisoner Leopoldo López. The president made the remarks during his speech at the Clinton Global Initiative, after participating in the UN General Assembly summit on climate change.
López has been imprisoned since February, after the government of Nicolás Maduro blamed him for 43 deaths associated with a wave of anti-government protests that began early this year — although he was not at the scene of any of them.
"We stand in solidarity with those who are detained at this very moment," Obama said, making a reference to López as his first example, along with other human-rights activists. "They ought to be released," he added.
Obama also mentioned Berta Soler, the leader of a dissident Cuban group, Ladies in White: "These citizens remind us why civil society is so essential… When people are free to speak their minds and hold their leaders accountable, governments are more responsive and more effective."
Lilian Tintori, Leopoldo López's wife, responded to Obama's words: "I am very moved and proud to hear the representative for world democracy and freedom say that Leopoldo López should be released."
"He really understands the truth of the Leopoldo López situation, and the Venezuelan situation: freedom for Leopoldo López is freedom for Venezuela," Tintori added.
Agradecemos al Presidente Obama por expresar su apoyo con firmeza y sin ambigüedades a la causa de la libertad en Venezuela.

— Lilian Tintori (@liliantintori) September 23, 2014
We thank President Obama for firmly expressing his unambiguous support for the cause of liberty in Venezuela.
Meanwhile, the case against Maduro for crimes against humanity is making its way through the International Criminal Court in the Hague. The prosecutor in this case is currently examining a complaint filed by more than 300 representatives of Spain and Latin America. They accuse Maduro of brutal repression during anti-government protests that ballooned in February.
The complaint, filed last April, also highlights the Venezuelan government's use of the judicial system as a tool to persecute political opponents. Leopoldo López is one of 80 Venezuelans the government is holding in prison over their involvement in protests in February.
Sources: Infobae, El Nuevo Herald.